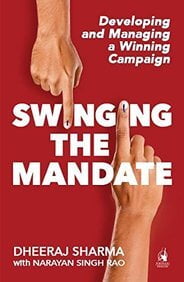 Swinging The Mandate : Developing And Managing A Winning Campaign
Non-returnable
Is Narendra Modi one of the most successful brands of our times?
Was the historic AAP victory in Delhi actually a fluke?
How do Indians vote and what influences them?

Swinging the Mandate is a first-of-its-kind book on political campaign management in India. Prof Dheeraj Sharma, chair of marketing at IIM Ahmedabad, and Narayan Singh Rao discuss how sophisticated campaign management strategies have been utilized in recent elections in India. The book offers excellent case studies from the historic general elections of 2014 and the landslide victory of AAP in the 2015 Delhi elections. It also gives examples of some hard-fought elections in Europe and North America to demonstrate increasing use of principles of marketing and management in campaign management.

Armed with comprehensive research and interesting case studies, this accessible book reveals how star campaigners are built, what the marketing mix for a political party looks like, and how elections are won in India.
Book Rating on Goodreads
5/5
Details
| | |
| --- | --- |
| Book: | Swinging The Mandate : Developing And Managing A Winning Campaign |
| Author: | Dheeraj Sharma, Narayan Singh Rao, |
| ISBN-13: | 9788184007602 |
| Product Code | EBK0382513 |
| Binding: | Paper Back |
| Publishing Date: | 2016-09 |
| Publisher: | Penguin India |
| Number of Pages: | 256 |
| Language: | English |