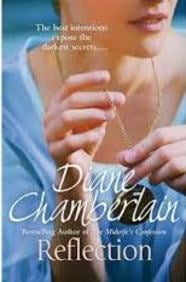 Reflection
Non-returnable
From Diane Chamberlain, the bestselling author of The Midwifes Confession, comes this story of overcoming the past and learning to live anew.
Twenty years ago, a terrible tragedy shattered the tranquillity of the small Pennsylvania Dutch town of Reflection. The residents of the village have never forgiven the one woman they blamed for what happened - Rachel Huber. After the incident, Rachel left the town and cut off all ties there. But when Rachel receives the news that her estranged grandmother, Helen, is ill and needs her care, she returns to Reflection.
But the town has not forgotten the past and amongst the hostility and gossip, Rachel is forced to seek out old allies and new passions. Soon she finds an unlikely advocate in her grandmother, who surprises her with her wise counsel and rare strength. Rachel comes to realize that they are both trying to overcome the past, and in doing so brings private guilt and concealed secrets into the light.
About the Author: Diane Chamberlain
Book Rating on Goodreads
4.41/5
Details
| | |
| --- | --- |
| Book: | Reflection |
| Author: | Diane Chamberlain |
| ISBN-13: | 9781447256663 |
| Product Code | 9781447256663 |
| Binding: | Paper Back |
| Publishing Date: | 2014-08-31 |
| Publisher: | Pan Macmillan India |
| Number of Pages: | 416 |