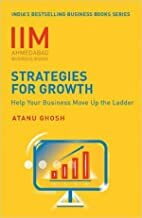 IIMA - Strategies for Growth: Help Your Business Move Up the Ladder
Non-returnable
About the Book: IIMA-Strategies for Future
Have you wondered why international business seems magically simple in text books but inescapably complex in reality? With international business pushing horizons, cross border activity is rampant and national boundaries are getting blurred. Economies have opened their doors and globalization is the watchword of the hour. Strategies for the Future explores the opportunities of a mingling world with remarkably discerning anecdotes and hands you the tools to master international trade. Professor Ajeet N. Mathur helps you formulate assumptions and make decisions under uncertainty in response to differences in business environments, national competitiveness, and regional and global strategies of other business players. As part of a competitive global village, this book is indispensable for any manager or entrepreneur bounding forward in the promising world of international business.
About the Author: Ajeet N. Mathur
Ajeet N. Mathur teaches Strategic Management and International Business in the Business Policy Area, IIM Ahmedabad. His inter-disciplinary interests are at the crossroads of economics, law, and strategic management of organizational knowledge. These are reflected in his work in international business with corporates and as an expert with ILO, WHO, ADB, and the European Commission. A significant focus of his research is on pervasive uncertainty and systemic risks, how motives and powerbases combine, group relations and the unconscious dynamics of large groups, linking strategy to organization development and co-evolution of capabilities in cross-border value chains, politics of disharmony in the management of gender differences, missing markets, market barriers, and the management of institutional diversity in cross-border value chains. He has been a member of the Board of Directors with Corporates in India and Europe and is consulted by businesses, governments, international organizations, and the policy research community. He served a term as the Director and Chief Executive, Institute of Applied Manpower Research with the rank of Secretary to the Government of India in the Planning Commission. He is Chairperson, Centre for Gender Equity, Diversity and Inclusivity, IIM Ahmedabad and a member of the Board, School of Inter-disciplinary studies, Indira Gandhi National Open University (IGNOU).
Book Rating on Goodreads
4.1/5
Book Specifications
ISBN-139788184003673
Language- English
Binding- Paper Back
Publisher- Random Business
Publishing- Date 2016-03
Total- Pages 320