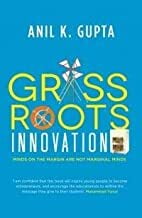 Grassroots Innovation
Non-returnable
About the Book: Grassroots Innovation
A moral dilemma gripped Professor Gupta when he was invited by the Bangladeshi government to help restructure their agricultural sector in 1985. He noticed how the marginalized farmers were being paid poorly for their otherwise unmatched knowledge. The gross injustice of this constant imbalance led Professor Gupta to found what would turn into a resounding social and ethical movement?the Honey Bee Network?bringing together and elevating thousands of grassroots innovators.
For over two decades, Professor Gupta has travelled through rural lands unearthing innovations by the ranks?from the famed Miticool refrigerator to the footbridge of Meghalaya. He insists that to fight the largest and most persistent problems of the world we must eschew expensive research labs and instead, look towards ordinary folk. Innovation?that oft-flung around word?is stripped to its core in this book.
Poignant and personal, Grassroots Innovations is an important treatise from a social crusader of our time.
About the Author: Anil K. Gupta
Professor Anil Gupta is the Executive Vice Chair of the National Innovation Foundation?which is chaired by the Adviser to Prime Minister?and is also the founder of the Honey Bee Network. He helped establish NIF (February 2000) with an initial corpus of Rs 20 crore. He has been a professor at the Centre for Management in Agriculture, Indian Institute of Management, Ahmedabad, since 1981.
Professor Gupta is also a visiting professor of Innovation Management in Emerging Markets at European Business School, a Berlin Fellow with the National Academy of Agricultural Sciences, and a 2001 fellow with The World Academy of Art and Science in California.
He was awarded the Padma Shri in 2004. He won the Asian Innovation Award (Gold) in 2000.
Book Rating on Goodreads
4.5/5
Details
| | |
| --- | --- |
| Book: | Grassroots Innovation Minds On The Margin Are Not Marginal Minds |
| Author: | Anil K Gupta |
| ISBN-13: | 9788184005875 |
| Product Code | EBK0375278 |
| Binding: | Hard Bound |
| Publishing Date: | 2016 |
| Publisher: | Random House India |
| Language: | English |