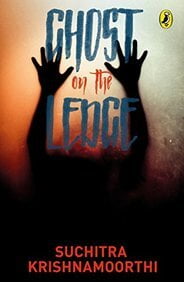 Ghost On The Ledge
Non-returnable
About the Book: Ghost on the Ledge
Secrets that become spectres Anupama is terrified. She claims to be seeing figures at her window. But no one seems to believe her. Perpetually lost in comic-book fantasies, is she seeing ghosts on her ledge or simply hallucinating?
Its the night of the Eid party and life is about to change forever at Swapnalok Society. Why has everything suddenly taken a strange turn, plunging the residents lives into utter chaos? What are the secrets hiding behind the curtains? Is it really God visiting them? Or . .
About the Author: Suchitra Krishnamoorthi
Suchitra Krishnamoorthi is an actor, singer, painter and poet. The Summer of Cool is her first of four books in the Swapnalok Society series.
Book Rating on Goodreads
4/5
Details
| | |
| --- | --- |
| Book: | Ghost On The Ledge |
| Author: | Suchitra Krishnamoorthi |
| ISBN-13: | 9780143334323 |
| Product Code | EBK0382515 |
| Binding: | Paper Back |
| Publishing Date: | 2016-09 |
| Publisher: | Penguin India |
| Number of Pages: | 280 |
| Language: | English |