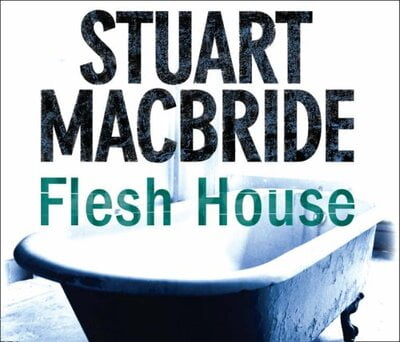 Flesh House
Non-returnable
His tough protagonist, Logan McRae, is once again negotiating the mean streets of Aberdeen, with violence and threat forever at his elbow. Those who have read 'Cold Granite', 'Dying Light' and 'Broken Skin' will know what to expect here - and they'll be aware that they're not in for a comfortable ride.

The city is in a state of fear. Some 20 years ago, the Grampian police nailed a particularly vicious serial killer known as The Flesher, a monster who had claimed victims throughout the country. But one of those frequent legal appeals which so often release dangerous criminals into the community has freed him, and when a container with human body parts appears at Aberdeen harbour, it looks like the stage is once again set for carnage on a massive scale. DS Logan McRae (along with his less experienced colleague, Chief Constable Mark Faulds from Birmingham - who was on the original team tracking down The Flesher), finds himself in charge of one of the most ambitious manhunts city has ever seen. And then members of the original team tracking down their serial killer prey (whose real name is Ken Wiseman) begin to disappear - and more human meat is making grisly appearances.

All of this is delivered with the requisite grasp of tension and characterisation that we have come to expect from Stuart MacBride. There are those who will feel he has gone too far in Flesh House in confronting the less savoury aspects of human behaviour, but fans of uncompromising crime writing will be in their element.
Book Rating on Goodreads
4.15/5
Details
| | |
| --- | --- |
| Book: | Flesh House. Stuart Macbride |
| Author: | Stuart Macbride |
| ISBN-13: | 9780007270644 |
| Product Code | 9780007270644 |
| Binding: | Hard Bound |
| Publishing Date: | 2008-06-01 |
| Publisher: | HarperCollins Audiobooks, |
| Language: | English |