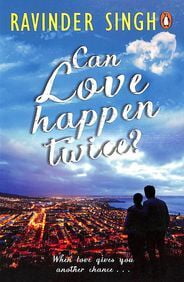 Can Love Happen Twice
Non-returnable
Heart wrenching as the first book I Too had a Love Story was, we continue with Ravin's touching account of his life in the sequel, Can Love Happen Twice? It begins with Ravin and his friends being invited to a radio show to talk about love, but when Ravin fails to show up, the world is holding its breath while his friends recount Ravin's thoughts from an unfinished book written by him. What unfolds later on in the story is quite exclamatory for the listeners and they wait with anticipation for Ravin to turn up for the show. Some of the questions in all of their minds are: What happened to him after the sufferings he had been through in the first book? Was he able to find someone for himself? Is something holding him back? Can Love Happen Twice? is a man's attempt at love, for the second time, which is as hard a task as it sounds. Whether he is able to conquer it and get his 'happily ever after' is a question that remains unanswered until you pick up your own copy. Ravinder Singh's sequel to I Too had a Love Story, published by Penguin India in 2011, is available in paperback, Kindle edition and audiobook.
Key Features:
The reception of Can Love Happen Twice? has been remarkable and according to fan reviews it has been made into a bestseller.
Ravinder Singh holds the 88th spot on the Forbes celebrity list for his sky high book sales and burgeoning popularity.
Book Rating on Goodreads
4/5
Details
| | |
| --- | --- |
| Book: | Can Love Happen Twice |
| Author: | Ravinder Singh |
| ISBN-13: | 9780143417231 |
| Product Code | EBK0292712 |
| Binding: | Paper Back |
| Publishing Date: | 2011 |
| Publisher: | Penguin India |
| Language: | English |