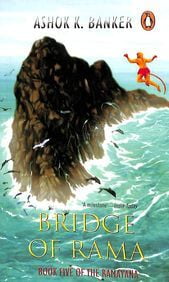 Bridge Of Rama Book 5 Of The Ramayana
Non-returnable
The original Ramayana was written three thousand years ago. Now, with breathtaking imagination and brilliant storytelling, Ashok K. Banker has recreated this epic tale for modern readers everywhere.
Sita has been abducted by the demonlord Ravana and held captive in the island-kingdom of Lanka. Rama is now faced with the bitter prospect of a final, terrible war against Ravana and his rakshasa hordes.
Sita's fate hangs in the balance while Rama's armies assemble on the very edge of the ocean. Using only their wits and bare hands they begin to build a bridge to the island-kingdom. But time is rapidly running out, and the journey to Lanka appears near-impossible €¦
At this critical moment Hanuman attains a magnificent apotheosis. Transformed into a being with a single-minded mission, he prepares for a terrifying face-off with Ravana, and makes his awesome leap across the ocean to rescue Sita.
Book Rating on Goodreads
4.8/5
Details
| | |
| --- | --- |
| Book: | Bridge Of Rama Book 5 Of The Ramayana |
| Author: | Ashok K Banker |
| ISBN-13: | 9780144001446 |
| Product Code | EBK0150771 |
| Binding: | Paper Back |
| Publishing Date: | 2006 |
| Publisher: | Penguin India |
| Language: | English |