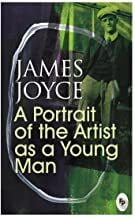 A Portrait of the Artist as a Young Man
Non-returnable
About the Book: A Portrait of The Artist As A Young Man
The journey of a mind strained with religion, family, and culture to the portraitof a mind that has achieved emotional, intellectual, and artistic adulthood . . .Under a fathers powerful influence, bullied by peers at school,Stephen Dedalus, a fictional alter-ego of Joyce, must grapplethrough the pleasures and pains of adolescence to experience the psychological, sexual, and spiritual discoveries.
Setting his mind on a self-imposed exile eventually, he lives a life devoted to the art of writing, casting off all his social, familial, and religious constraints.
Rushing you back and forth through sudden disruptions, A Portraitof the Artist as a Young Man, Joyces autobiographical novel, traces the intellectual and religio-philosophical awakening of Stephen.Giving an insight into the development of a literary genius, thisnovel is regarded as one of the 100 best English novels of the20th century. As you wade through Stephen Dedalus aesthetic experiences and epiphanies, you will be coaxed into thinking of your moment of profound revelation.
About the Author: James Joyce
James Joyce (1882 - 1941) was born in Dublin, Ireland, to a well-meaning but financially inept father and a solemn, pious mother. Oneof the most revered writers of the 20th century, he was noted for hisexperimental use of language in his works. His first publication, anessay on Ibsens play, appeared in the Fortnightly Review in 1900. In1904, he made his first attempt at a novel, Stephen Hero, and alsoattempted to publish A Portrait of the Artist, an essay-story dealingwith aesthetics, only to have it rejected. At the outset of the First World War, Joyce moved to Zurich, wherehe wrote Exiles, reworked on the early chapters of Ulysses, andpublished A Portrait of the Artist as a Young Man in a serial form. Itappeared in twenty-five instalments in The Egoist. Almost a completerewrite of the abandoned Stephen Hero, it is heavily autobiographicalincorporating the techniques of stream of consciousness and interiormonologue. Joyce died in 1941 at the age of 59.
Book Rating on Goodreads
4.2/5
Book Specifications
ISBN-139788175992887
Language- English
Binding- Paper Back
Publisher- Prakash Books India Pvt. Ltd
Publishing- Date2015
Product- Edition1